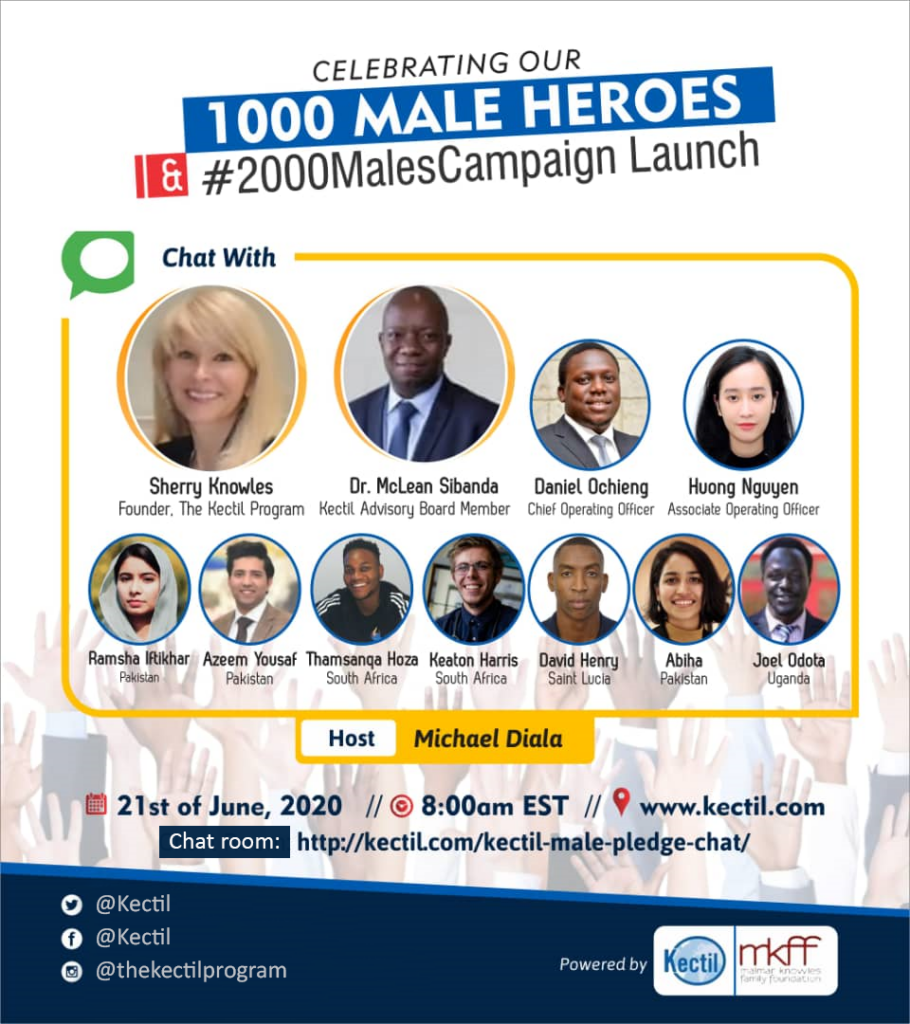 It is finally here!!!
The Malmar Knowles Family Foundation and The Kectil Program are excited to celebrate the success of the 1000 Male Promise Keepers campaign! This week we are on a roll to recognize male individuals who pledged to be a Promise Keeper and help us meet our goal of 1000 males.
Our first celebrating activity is the LIVE WEB CHAT on our website. We officially launched the "1000 Males Campaign" with a Tweet Chat, and we think it will be more meaningful to celebrate all of the excellent male leaders who are Male Pledgers via a public web chat.
In this chat, we will announce a very SPECIAL REVEAL aligned with the campaign. The host is Michael Diala – a Kectil Youth Mentor from Nigeria. During the chat, you will have the opportunity to talk with our Panelists, including:
Ms. Sherry Knowles, Founder and Executive Director of Malmar Knowles Family Foundation and The Kectil Program.
Dr. McLean Sibanda, Kectil Advisory Board Member.
Daniel Ochieng, Kectil Chief Operating Officer.
Huong Nguyen, Kectil Associate Operating Officer.
Kectil outstanding Youth Mentors and Regional Coordinators (David Henry – Saint Lucia; Joel Odota – Uganda; Ramsha Iftikhar, Azeem Yousaf, Abiha – Pakistan; Thamsanqa Hoza and Keaton Harris – South Africa).
and Male Promise Keeper Pledgers who will come and share their stories!
The chat session will start at 8AM EST, June 21st, 2020 on our website at the link https://kectil.com/kectil-male-pledge-chat
To join our live web chat, please follow this instruction:
Be present at https://kectil.com/kectil-male-pledge-chat at 8 AM EST, June 21st 2020.
Log in with your Guest/Facebook/Twitter account or register for a new one. You can do this by clicking on the chat tab.
Then, you're all set.
You are also welcome to fill in this form with your information: https://forms.gle/f6GacPn21mYXfLTZ9 to get a reminder email 30 minutes before the chat begins.
We look forward to seeing you there and hearing your thoughts. Everyone is welcome to celebrate the success of our 1000 Male Promise Keepers Campaign.
We could not be more proud of the males who are stepping forward to lead their societies with dignity, perspective, and their natural protective skills to keep their community out of harm's way! This is our special public honor to them – our brave Promise Keepers for stepping up as ethical leaders. Please join us and keep the momentum going!