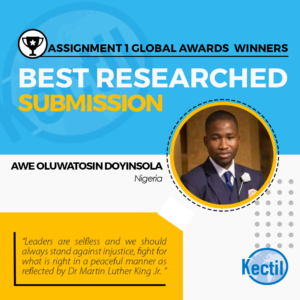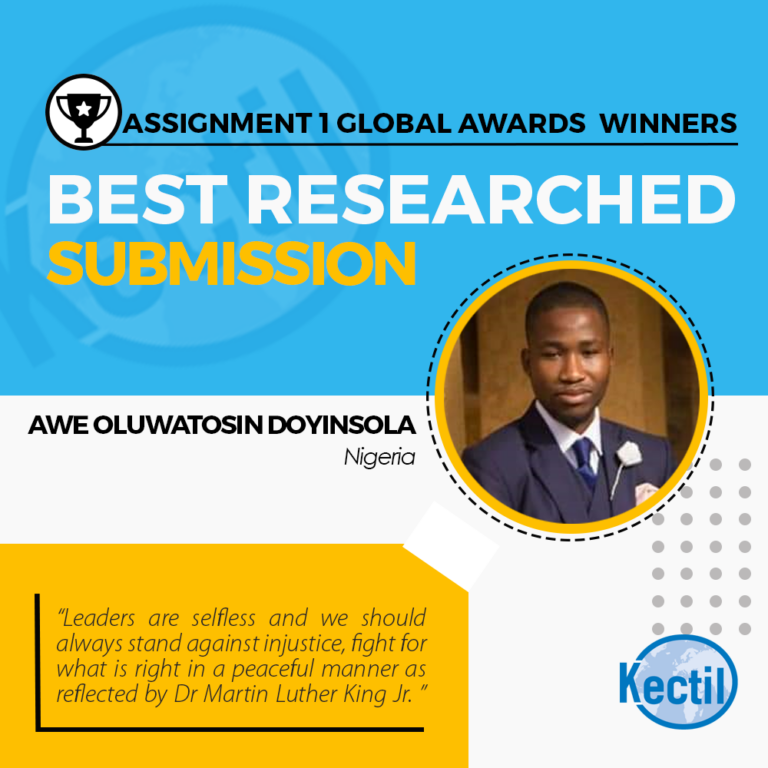 The Kectil Program would like to highlight and congratulate Awe for emerging Winner of Assignment 1 BestResearched Submission.
Awe Oluwatosin Doyinsola has over four years' experience in the community development sector and has spent the last four years contributing to community development, leadership, health, governance and education awareness as an avid supporter of the Sustainable Development Goals (SDGs). Awe's past experience include being the project manager of the SDGs in his youth service at Minna West Axis, Niger State, where he led the group on series of sensitization and project activities of the SDGs in 2016. He has worked as a Kwara State Team Lead and National Volunteer for Voluntary Service Overseas (VSO Nigeria) working on the area of education and policies surrounding inclusion among primary & secondary school children. As the team lead for Kwara state, he was tasked with the responsibility of the Citizen Led Monitoring (CLM) (a VSO Nigeria Programme), a Social Accountability project where duty bearers and service providers are held to account in the area of Education.
Currently, Awe is the Volunteer Project officer for The Support Nest Initiative (TSNI) where he focuses on initiating, designing and implementing programs on mental health for Servicemen, women and their families. He is also an active member of the Young African Leadership Initiative (YALI Kwara Hub) and was recently sponsored for a civic leadership training in the online cohort 15 of the YALI RLC West Africa (Accra-Ghana) program specifically on Civic Engagement. Awe also works as the Project Manager and Intern at The Leadership Development Institute, Al Ahkawayn University, Ifrane, Morocco. Which is the first student leadership program in Morocco and remains among very few in the Middle East North Africa region of the world. The LDI is most unique for developing the skills that students need to take on leadership responsibilities in any career or sector of society. One of his many duties include serving as a mentor to Moroccan students in their professional growth and to develop their leadership skills.
Oluwatosin holds a B.Sc. Zoology from the University of Ilorin and proceeded in the same University for a Master's degree and majored in Parasitology (with precise interests on the epidemiology of Parasitic Neglected Tropical Diseases). He also recently graduated from UNICAF University, Lilongwe, Malawi where he earned his Masters of Business Administration on full scholarship. Awe Oluwatosin is driven by his commitment to leadership, youth empowerment, health and education awareness as an avid supporter of the Sustainable Development Goals (SDGs). Awe hopes to one day witness a new uprising in Africa that is totally committed to a liberated and equal society. Awe plans to continue his work in education, leadership and health with more focus on advocacy and awareness and a commitment to the fight for women's right and equal opportunities. Mr Awe loves football, research and likes reading current news and books.
Experience and tips that fellow colleagues can use to submit creative assignments.
His journey to Kectil has being wonderful, his brother introduced him to the Kectil program because they both have passion for leadership and have been involved with different youth organizations over the years.  2019 was really great for him as a Kectil Colleague and that was why he reapplied to continue. He participated in all the assignments, wrote two blog posts as well as interacting with other youths from different countries. Many of whom have become friends today and maintain regular contact. Some of the most important lessons he has taken to heart so far are:
Leaders are selfless and we should always stand against injustice, fight for what is right in a peaceful manner as reflected by Dr Martin Luther King Jr.
Understanding the roles of women in our society and the underlining systemic discrimination, socio-cultural and political barriers and work to be part of the solution as reflected in our male Kectil pledge and beyond.
Our roles in holding the government to account on circular economy and environmental management as well as building ourselves to create change that stimulate innovation and disrupt culture.
For Awe Oluwatosin, the 2020 Kectil program has been about building upon the solid foundation he had in the 2019 program. So far, the Kectil program has addressed two very pertinent issues of our time which is mental health and use of social media. Thus, it shows that the initiators of this program are moving with time and understands how crucial these two issues can be in shaping the youth's future.
The Kectil Program would like to highlight and congratulate Bradley for emerging Winner of Assignment 1 Best Overall Submission.
Bradley Beckley Ndibnu is a young Cameroonian diplomat with a passion for humanitarian and volunteering work as well as community development. He is the co-founder and projects manager of Advocates for Equity and Development since 2018, a non-profit NGO aimed at promoting, empowering and advocating for the rights of the disabled and Internally Displaced Persons of his community.
Bradley joined the 2020 Kectil program back in December 2019 as a colleague and it has since then been a tremendous and life-changing experience for him. v shares Bradley. His Kectil journey has not only brought out the best in him as an aspiring young leader but the lessons learnt from the entire team and colleagues, especially Mrs Sherry Knowles herself has been invaluable to him and has helped to positively reshape his perceptions on leadership, innovation and dedication. This program has given him a sense of purpose and direction and has certainly challenged him as an individual and a young leader to surpass himself and soar even higher into unimaginable heights.
The assignments have especially been challenging on both the physical and mental and even on an emotional level, requiring so much more than just dedication, research and intuition to successfully complete them. He admits that one of the experiences that really stood out for him came from assignment one. It's not every day one is asked to write their own eulogy. This seemingly normal exercise changed so much for him and he began to question his purpose and how he was going to achieve his dreams. That's when the epiphany came in the words of Mrs. Sherry Knowles "My challenge to you is likewise to aim higher than you think you are able to go, and then figure out a way to get there and surpass it. You have the ability, talent and passion to do this. We hope this Program will be a small contribution to your journey to accomplish the impossible." These inspiring words have been his motivation for giving in his absolute best into everything he does both in his personal and professional life.
The contribution of the Kectil program has been far from small in his journey. It has been incredibly impactful and nourishing in unexpected ways. The personal branding web-session by Nozipho Mbwanja was also a very insightful and important learning experience. It has been a huge motivation for him since he had always struggled with public speaking and presentations, to regain his self-confidence and be able to speak convincingly and sound more like a leader. Working on assignment 3 and going through the submissions of his fellow colleagues, Bradley learned so much about the importance, challenges and management of mental healthcare and it has completely changed his perception on the issue as well as motivated him to speak up about it and raise awareness that could positively impact the lives of youth struggling with mental health challenges.
Experience and tips that fellow colleagues can use to submit excellent assignments.
As we are all aware by now, Kectil assignments are extremely challenging. But I cannot think of a better way to make learning more meaningful and impactful than challenging yourself, taking you out of your comfort zone and pushing you to your limits. This experience has been very exciting for me and it has even helped me embark on a journey of self-discovery on both a personal and professional standpoint. While I applaud you all for your excellent submissions for the most part, I have the opportunity to share with you my observations, advice and suggestions that could help us improve upon the quality of our assignment submissions and hopefully stand a chance to be nominated for one of kectil's prestigious awards.
Read and reread through the assignment carefully, while paying particular attention to the instructions and the deadline whlie trying to grasp a general understanding of the topic and the questions asked. This will help you to prepare adequately and mentally for the task at hand. While reading through our submissions, I realized some people didn't quite understand what was required of them and this negatively affected the quality of their submissions.
Plan your time diligently so as to catch up with deadlines and make time to read through support documents and if possible, make notes along the way. The support documents that are usually uploaded with our assignments, offer not only valuable insights but also serve as a guidelines on how to tackle the related questions. Use them. Personally, I also schedule mini hourly or daily deadlines so as to help me manage my time and keep my momentum going.
Endeavor to start working on your assignment well in advance. Do your research, gather your materials and more importantly, start writing, even if it's just ideas. They will provide a foundation on which to build your answers on quicker. It is a lot easier to pick up from where you left off than having to start afresh. Some days are more inspiring than others. It is always a good idea to maximize this time and try to get as much work done as possible. Do your best to finish assignments.
Always seek advice and do not be afraid to ask for help if need be. I cannot emphasize this enough. As the saying goes, "two heads are better than one". We need to learn to always listen and learn from others ideas and opinions. This is one very important way through which we learn and improve upon our own knowledge and skill.  It is always a good idea to entertain fresh perspectives to old and new topics alike because it builds our intuitiveness and creativity and it helps us to tackle and bring many different solutions to similar problems.
Lastly, proofread your assignments thoroughly while checking for spelling and grammatical errors. How you present your assignment says a lot about your person. Too many errors in your work can only be attributed to your clumsiness or inattentiveness.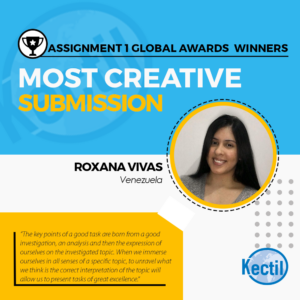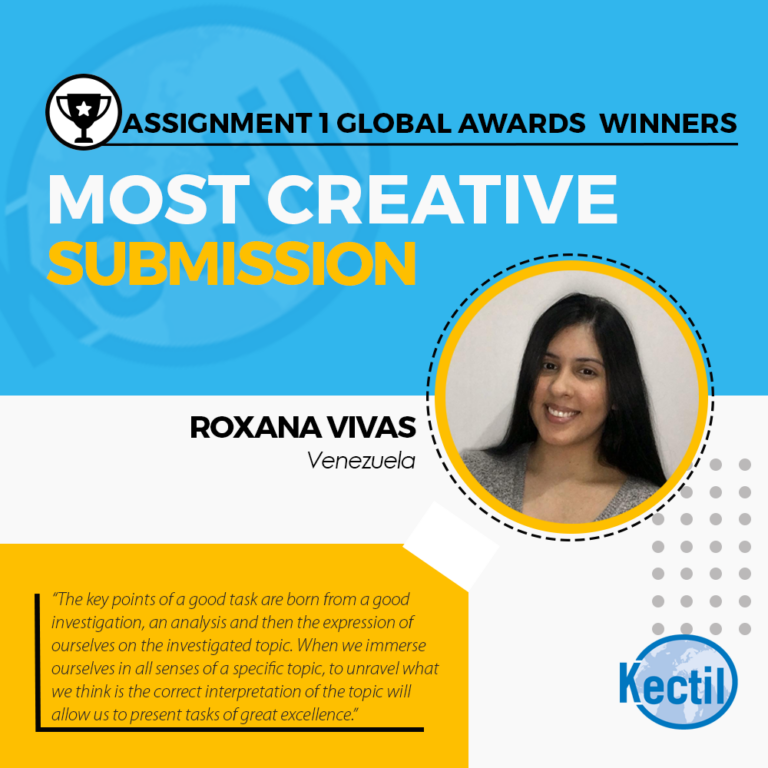 The Kectil Program would like to highlight and congratulate Roxana for emerging Winner of Assignment 1 MostCreative Submission.
Roxana Vivas is a 21-year-old young Venezuelan, a lawyer graduated from the Rafael Urdaneta University (URU). She is a leader in her community, her fight is inspired by the defense of women's rights and every day she learns something new to strengthen her leadership. She is a human rights defender and activist, co-monitor of the Amnesty International Venezuela Women's Network. President of the Non-Governmental Organization "Women Riots" and coordinator of research and documentation of the Center for Activism and Democratic Development of Latin America (CDDLATAM).
Now a Kectil Colleagues Program scholar, she joined when looking online for opportunities and found one that, according to Roxana, "changed her life." With the kectil program Roxana has learned to know the key points of a leader, from the positive to the negative, being guided by the 10 points of a leader according to the Kectil Program, which allowed her to improve the weak points of her leadership to become a best. In addition to that, it allowed her to better develop the management of social media to obtain good personal branding. And finally, thanks to the kectil program, she has obtained tools to maintain mental health in times of pandemics as well as a leader being able to share it with her community and provide tools that allow them to improve their mental health.
Experience and tips that fellow colleagues can use to submit creative assignments.
The best advice I can give you when writing an assignment, essay, article, is: be yourself, express what comes to you, give life to your voices. Many times we wonder what others will like to read? When in reality, what is more interesting is, when we ask ourselves what we want to express and write? Because in this way we express what we think and allow others to read the different perspectives that may exist on the same topic.
On the other hand, the key points of a good task are born from a good investigation, an analysis and then the expression of ourselves on the investigated topic. When we immerse ourselves in all senses of a specific topic, to unravel what we think is the correct interpretation of the topic will allow us to present tasks of great excellence.