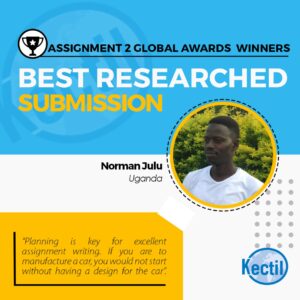 WINNER OF KECTIL ASSIGNMENT 2 BEST RESEARCHED SUBMISSION: NORMAN JULU FROM UGANDA
Please join us to congratulate Norman Julu from Uganda for being awarded Kectil Assignment 2 Best Researched Submission!
Biography
Norman Julu is a graduate of Bachelor of Commerce (Accounting major) from Makerere University, Kampala-Uganda with a deep passion for ICT and he is currently pursuing Certified Public Accountant (CPA) Certification. Norman has over 2 years of professional work experience in business and accounting. He is a mentor, trainer and a coach in entrepreneurship and life skills. Upon completion of his undergraduate studies, Norman returned home and started the idea of bringing the youths together to share useful knowledge, skills and experiences. Norman and his colleagues started Lamwo Youth Forum for Change, an organization that now runs Lamwo Youth ICT Hub located in Padibe town Council, Lamwo district.
Norman's Kectil journey started way back in 2018. He got to learn about Kectil programme from a 2018 Kectil colleague, but unfortunately, the application for 2018 application window closed. He kept an eye for the next application call and applied in 2019. Eventually, his application was successful.
Since joining the programme, he was able to learn leadership skills but also challenge his leadership abilities. With just a few months into the programme, he felt like the Kectil programme broadened his understanding of key leadership traits as well as the development needs of his community.
Norman goes to say, "Strong economies are built on entrepreneurship, creativity and innovation. I cannot imagine survival without business". Youths' potential, especially along the business line should be unlocked. They have the ability, but only find difficulties discovering them. There is a need for training, coaching and mentorship to help youths identify their talents and work around transforming the talents into innovative solutions that are beneficial to our community. Business and entrepreneurship become increasingly important in a developing country like Uganda, with high rates of youth unemployment.
Norman's Experience and Tips on Excellent Assignments Submission
I am truly excited about the award of "Best Researched Submission" for assignment two. Thanks to all the Kectil colleagues who managed to get their assignments through. We are all leaders born for greatness. I also enjoy reading submissions from the rest of the participants from other countries.
Remote learning across the globe is on the rise, the number has even doubled this year due to the coronavirus pandemic which took the world by a storm. Although this development is not new to some organisations and individuals, online learning continues to expand and is being accepted to many as a better and conducive learning environment.
In fact, the Kectil programme has been a typical example of remote working way before the outbreak of the virus, with most of its activities done online. I can't even imagine how the programme succeeded in uniting over 600 colleagues from different countries across the developing world this year through internet-based platforms.
As a 2020 Kectil colleague and one of the assignment submission winners, it is my pleasure to share my experience with Kectil assignments, which, in my opinion, should help others improve their submissions:
Draw up an assignment plan
Planning is key for excellent assignment writing. If you are to manufacture a car, you would not start without having a design for the car. Also, these assignments require you to carefully plan your work. You need to decide on the general work organization, information to be included and the sources to be consulted.
Typically, I come up with an assignment timetable that clearly spells out the little assignment activities and deadlines. Now it's time to have your calendar blocked and alarms set to ensure the scheduled is strictly followed.
The only way to start is to start
Although a one-month period to submit a Kectil assignment might seem to be too much time, this has never been the case. The only way to start doing your assignment earlier is to start immediately as soon as the assignment is distributed. 15-20 minutes of your time a day for the assignment goes along way. Procrastination only make things worse for colleagues as it piles up little tasks until the final day. I normally start working on my assignment a day or two after receiving it.
Read more and explore facts
Today's learning is easier with the advance of internet. There are millions of online books, academic writings and all sorts of information on the assignment which are easily accessible for free. To better write your assignment, you need to read more and explore more facts about the subject you are writing to come up with clear and concrete information. Google Scholar, Government websites, Reports, and other journals have especially been helpful to me in enriching with assignment with facts.
Consultation is a good practice
Kectil assignments are unique and broad in its contents. Sometimes it covers areas you are not familiar with or you do not understand well the facts on the ground. Talking to friends, experts in certain fields and responsible authorities would make you better understand the underlying facts on the ground. The Kectil Regional discussions have also been useful in breaking down technical terms in the assignment to forms easier understood by colleagues.
Editing and proofreading is crucial
It is better to incorporate editing and proofreading in your assignment writing to identify mistakes: grammar, spelling and punctuations. However, this can only be done when the assignment is done before the deadline. Proofreading is one of the essential elements of the writing process. Friends, siblings, or mentors are all potential proofreaders. There are also some online proofreading tools such as Grammarly software.
Turning in assignments on time is crucial for our Kectil success. However, due to unavoidable circumstance, we may experience delays, in which case the colleague has to communicate with the regional coordinators and the Kectil Administration about the possibility of an extension.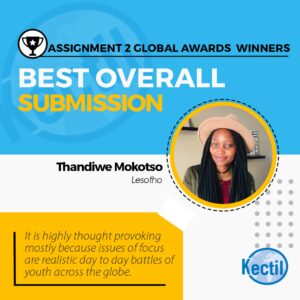 WINNER OF KECTIL ASSIGNMENT 2 BEST OVERALL SUBMISSION: THANDIWE MOKOTSO FROM LESOTHO
The Kectil Program is thrilled to announce Thandiwe Mokotso from Lesotho as the winner of Kectil Assignment 2 Best Overall Submission.
Thandiwe's background
Thandiwe Mokotso has a BA in Public  Administration and Development Studies from The National University of Lesotho. Due to her passion in community development as a change maker she's always eager to advance her skills and knowledge through education and grass-root level hands on learning. Therefore she has various certificates under her belt from the likes of Public Management and Governance  from Young African Leaders Initiative (YALI) Regional Leadership Centre Southern Africa in collaboration with UNISA School of Business Leadership as an alumni, Public Health certificate in Sexual Reproductive Health, Life skills Based Sexuality Education, Tuberculosis Advanced Concepts, Human Resources for Health, Knowledge Management in Global Health Programs and an Honors Certificate in Mainstreaming  Early Childhood Education. 
She is a  Monitoring and Evaluations Consultant who dedicates her free time mentoring Adolescent Girls and Young Women on Life-skills based sexuality education, sexual reproductive health rights, human rights and responsibilities, gender based violence, community norms change and Interpersonal communication. She is a founder of the Thandiwe Mokotso Foundation which focuses on mentorship, raising awareness, advocacy, sustainable development and caring and sharing. 
She was encouraged to join the program by Limpho Phokojoe a Kectil colleague. She has gained tremendous knowledge from the program however the most exhilarating so far has been the social media and personal branding as well as mental health awareness. Those she felt were so surreal and thought provoking since almost all people have a personal story regarding those topics. Interacting with like minds and getting to read about their various perceptions on youth related issues has been her biggest highlight of the program and she continues to learn and maintain an open mind both professionally and personally.
THANDIWE'S KECTIL EXPERIENCE 
Kectil has proven to be very astounding with topic selections and that always keep me on my toes. It is highly thought provoking mostly because issues of focus are realistic day to day battles of youth across the globe. The best advice I received while writing about social media and personal branding was to own every piece I write and, keep it original and let my personality show through my work therefore that's the tip I would like to pass onto my fellow colleagues. There is no formula in addressing such issues the best thing we can do is tell our stories as raw and authentic as they are and hope they can change someone's perception as well as open minds to the realities of what it really means to be a young leader irrespective of backgrounds and places of origin.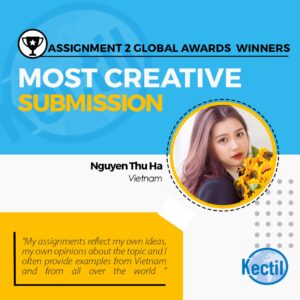 WINNER OF KECTIL ASSIGNMENT 2 MOST CREATIVE SUBMISSION: NGUYEN THU HA FROM VIETNAM
The Kectil Program is excited to celebrate Nguyen Thu Ha from Vietnam for winning Kectil Assignment 2 Most Creative Submission.
BIOGRAPHY
Nguyen Thu Ha is a girl coming from Vietnam, a developing and peaceful country.
She studied at Nguyen Hue Highschool for the Gifted, specialized in Mathematics. Her great talents and efforts paid off and Thu Ha got in Foreign Trade University, majoring in Finance and Banking with a direct offer without an entrance exam.
Thu Ha is a dedicated, energetic and ambitious young woman. She is always willing to acquire knowledge of all fields and Ha has a plethora of creative ideas. That is why, after knowing that there is a program, The Kectil Program, that may help her to further refine herself, she applied immediately. Her best-liked quote is: "True leadership often happens with the smallest acts, in the most unexpected places, by the most unlikely individuals" (Michelle Obama). Ha's truest desire is to be an influencer and become the best version of herself in order to make the world a better place. After 9 months participating in The Kectil Program, although there have been just 3 assignments, she has gained a wealth of traits in order to be a global citizen and a worthy leader such as global mindset, critical thinking, cross-cultural awareness…
EXPERIENCES AND TIPS
Whenever I receive the topic of the assignment, the first thing I do is read the subject slowly and carefully and analyse the question. It is important to pay careful attention to the guidelines that come with the assignments because all of assignments are supposed to be written in a particular structure, that is demanded by Kectil's professor. Then, thinking about what I need to do to complete the assignment (for example, what research, writing drafts, reference checking, reviewing and editing, etc) and breaking these up into a list of tasks to do are my second doing. After that, drafting an outline will give me a structure to follow when it comes to writing assignment. This activity will help me understand how the topic should be structured, what must be included, and which sections are worth the most marks. From then, I can create my outline, using headings and gaps for the information I have to fill in. My assignments reflect my own ideas, my own opinions about the topic and I often provide examples from Vietnam in particular and from all over the world in general in order to make my perspectives become more clearly. Before writing, I also need to define the audiences of my assignment: my assignments are submitted to the global website and they are read by teenagers around the world and the professor, judges of The Kectil Program.Once I have finished the assignment, I tend to improve it by editing and proofreading. Lastly, I will that all my assignments are completed well in time as well.