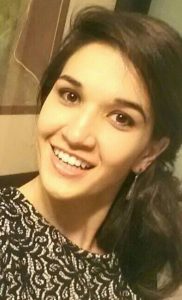 Our first Spotlight is on Mahri Batyrova, a 22-year old youth from Mary, Turkmenistan, which is in Central Asia. Mahri is a smart talented woman who is dedicated to pursuing educational, charitable and leadership skills to make a positive difference in her community and internationally.
Mary, Turkmenistan is in the Karakum Desert on the Murghab River. It has a population of about 115,000 people. It was formerly named Merv, which was a city on the Silk Road. Turkmenistan was occupied by Russia in 1884 and became an independent country in 1992.
The majority of people in Turkmenistan are Muslim, including Mahri and her family. Mahri has wonderful parents who have strongly encouraged her to meet and exceed her potential in education and civic activities. Mahri has a younger brother who is currently serving the required term in the Turkmen military, and her twin brother is studying at Turkmen State Institute of Economics and Management.
Mahri was devoted to her studies in secondary school, making all A grades, and always on the honor roll. At the same time she attended musical school, specializing in violin. She took ten years of English classes which allowed her to become conversational in English by her high school graduation. During high school, she also participated in activities at the American Corner to learn more about life outside of Turkmenistan and cultural diversity.
Mahri's curiosity about other countries and international cultures and her desire to advance her leadership skills led her to apply for a one year scholarship program to the United States with the "Future Leaders Exchange Program" (FLEX). She was selected from among 500 applicants from Mary alone. While in the United States, she was a recipient of the President's Volunteer Service award for completing over 100 community service hours.
Mahri continued with two additional years of study in the U.S. at Georgia Perimeter College where she was selected as an International Peer Assistant both years. The International Peer Assistant Program is a team of volunteers who offer peer support and informational assistance to international students, and who understand the challenges international students encounter adapting to new cultures.
She was selected to participate in the Georgia International Leadership Conference in 2014 and 2015, which is a conference for international students to come together to share ideas, network and develop leadership qualities.
Mahri has also volunteered for Samaritan's Purse, which is a humanitarian organization that provides aid to people in need of assistance around the world.
Mahri wants to use everything she has learned and experienced to help other youth in developing countries achieve their potential to make a positive difference. She is now working very hard as a volunteer intern with The Kectil Program, donating hundreds of hours to help do whatever is needed to create and maintain a support network for her peers in developing countries. She is very excited about this important opportunity.
Our "Spotlight" column provides a profile of a selected youth from a developing or least developed country who is on his/her way to making a positive difference in his/her community and with his/her peers. If you would like to be considered for a "Spotlight" profile, please send us information about you to mail@kectil.com.