AZHAR ADAM NADKAR – WINNER OF KECTIL ASSIGNMENT 3 BEST RESEARCHED SUBMISSION
It is exciting for The Kectil Program and MKFF to make an announcement for Kectil Assignment 3 Best Researched Submission, Azhar Adam Nadkar from South Africa! During our own reading process, the Kectil Team was impressed at Azhar's submission and the high level of research he applied in his assignment. It left us no surprise that he was nominated by Coordinators of Kectil South African Regional Group.
We highly recommend you to learn about Azhar's interesting background and his tips for better assignment submission.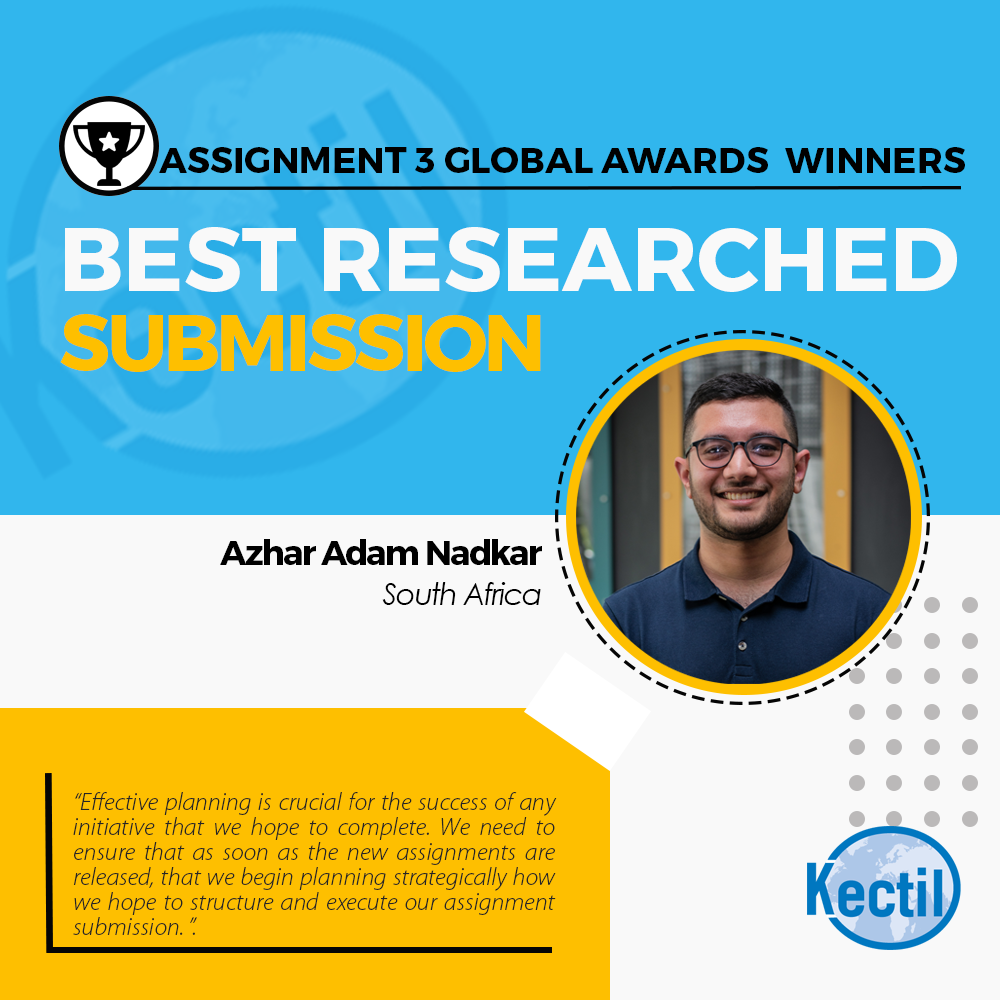 Final-year South African medical student, Azhar Adam Nadkar, has emerged as the Global Award Winner in the 'Best Researched Submission' category for Assignment 3 as part of the Kectil Program. In an interview, Nadkar said he was humbled by and excited about this great achievement. Nadkar has been recognized as a student who embraces being involved in co-curricular activities, and at the end of last year, received the Stellenbosch University Rector's Award for Excellent Achievement in the category of Leadership.
As a first-generation university student, Nadkar has embraced a strong leadership role in the medical faculty, while not neglecting his academic studies. He has also managed to play a meaningful role in a number of student societies, showing the breadth of his contribution to life and learning outside of the curriculum. Nadkar is guided by service to others, showing the real attributes of a leader who learnsnew skills in order to assist others. When asked what special contribution he would bring to the Kectil Program as a Kectil Colleague, Nadkar had the following to say: "I am approaching this with a sense of humility, as well as passion, with regards to what we have already achieved, and also hope to achieve in the near future in Africa. One goal during my term as a Kectil Colleague is to create opportunities for other African students. I would like to pave the way for other students."
Nadkar first found out about the Kectil Program through a Kectil Colleague that has previously completed the program. "When I saw the advertisement for the Kectil Program, I knew that this was an opportunity for me to become empowered and skilled through participation in this innovative leadership training and guided networking program. As a final-year medical student that will soon graduate as a medical doctor, it is important that I continuously equip myself with the knowledge, attitude and skills needed to excel as a healthcare professional, scholar, researcher, and leader in the African setting." When asked about his experience in the Kectil Program to date, Nadkar said, "It has been such a great privilege to be part of the Kectil Program which has already taught me a great deal and I am extremely excited for what lies ahead."
Azhar also shared us some useful tips that helped him made his name as a winner of assignment 3:
I have had such a great experience participating in the Kectil Program thus far. It has immenselycontributed to my continuously developing personal and professional development. I am humbled to have received the Global Award for the 'Best Researched Submission' category of Assignment 3 in the Kectil Program. As a 2020/21 Kectil Colleague, I am honoured to share some of my experience andtips on how to develop a thought-provoking, well-researched, and creative assignment submission.
Tip 1: Develop an effective plan and start early – Effective planning is crucial for the success of anyinitiative that we hope to complete. We need to ensure that as soon as the new assignments are released,that we begin planning strategically how we hope to structure and execute our assignment submission.
Tip 2: Be mindful of your target audience – As writers, it is always important that we keep the end-user (reader) in mind, i.e. our target audience. In the setting of the Kectil Program, our target audience is youth aged 17-26 on a global platform. This means that we should ensure that our assignments arewritten in a manner that can be easily comprehended by all Kectil Colleagues across varying educational and professional backgrounds.
Tip 3: Consult credible resources – It is incredibly important that when planning and writing our assignments that we incorporate credible resources into it whilst appropriately referencing the resources used. As responsible citizens, we should not indulge in or share unsubstantiated claims and fake news surrounding current developments and advances in our respective countries as this may have a detrimental long-term effect on the lives of many people. As young emerging leaders, our words carry 'great power', and therefore we need to ensure that we utilise this 'great power' in the most appropriate manner possible.
Tip 4: Facilitate your Kectil Panel Discussion efficiently – Inviting youth to participate in ourmonthly panel discussions will not only enable us to gain their input and experiences in order to collate the 'Kectil Panel Discussion' component of our assignments but will also allow us to gain their overall fresh perspective on the assignment themes in our respective settings. Furthermore, we should endeavour to involve new youth members in our panel discussions each month. This will provide more youth with the opportunity to be involved in critical discussions surrounding their personal and professional development as emerging leaders in our respective countries.
Tip 5: Proofreading, proofreading and proofreading – I cannot further emphasise how important this tip is. Proofreading our assignments will 1) enable us to identify and rectify grammatical errors, spelling errors, and other writing errors, and 2) enable us to look at our assignment with a fresh lens and assess how we can further enhance the message that we would like to bring across. As budding young professionals and global leaders, it is important that we practice this skill to ensure that we consistently deliver thought-provoking, sensible and well-researched submissions and publications.
I hope that these tips will be useful when preparing future assignments. All of the very best to my fellow Kectil Colleagues with the rest of our Kectil journey. I am incredibly blessed to be able to experience this lifechanging opportunity with all of you!
LISA HUSSAIN – WINNER OF KECTIL ASSIGNMENT 3 BEST OVERALL SUBMISSION
The Malmar Knowles Family Foundation and The Kectil Programis thirlled to announce the excellent winner of Kectil Assignment 3 – Male Roles in Society: Lisa Hussain from Guyana. She has been consistantly performed since the beginning of her program with amazing submission, and now made her name as the winner of Best Overall Submission. We would love you to get to know more about Lisa and her tips in producing such good written work.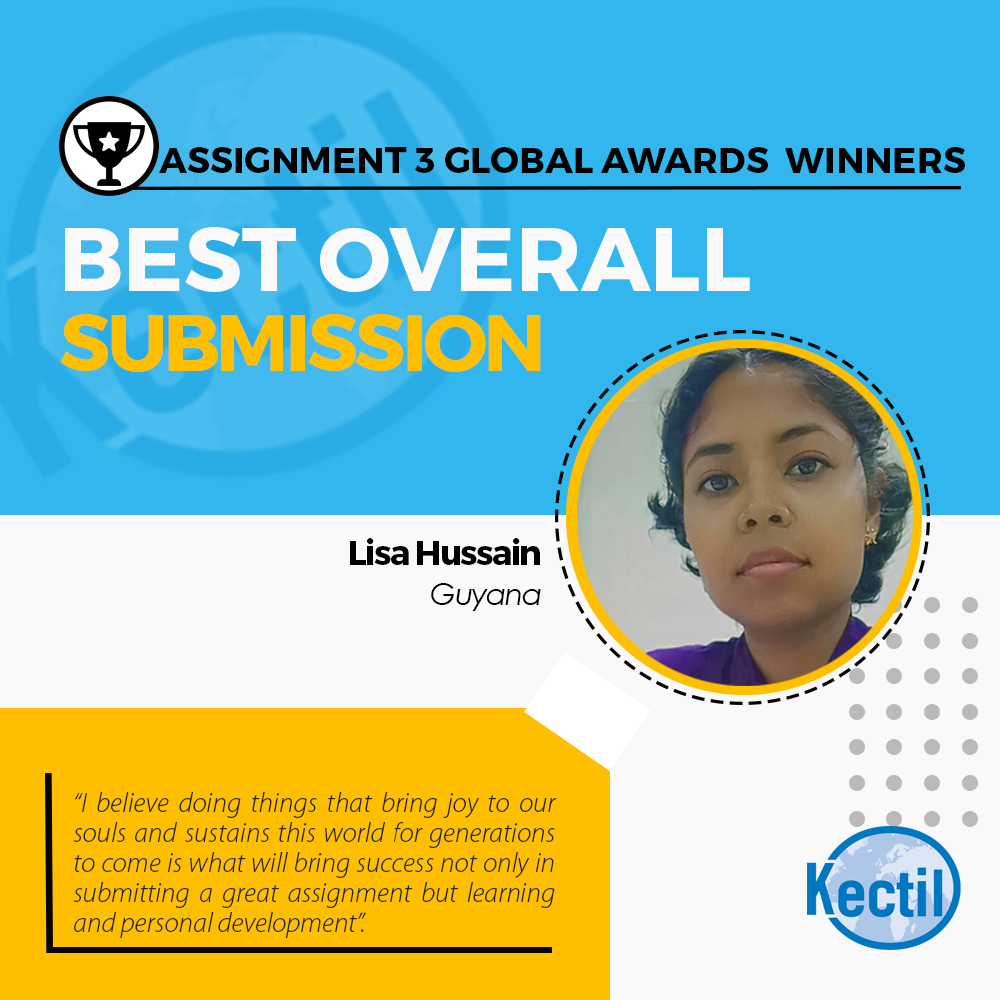 Passionate about the development of Guyana, the 26-year-old SAGE scholar alumni Lisa Hussain is an Assistant Financial Analyst at the Bank of Guyana. She graduated from the University of Guyana in November 2018 with a Bachelor's in Economics but her accomplished went beyond that of the academic. In recognition of her contributions to the cultural environment of the University's campus, Lisa was the recipient of both the Council of the University prize and Dennis Irvine Award, awards that historically have never been received by the same person. These awards were well earned as in her second year, she founded the first and only female empowerment organization at Turkeyen campus (UGFEM- University of Guyana Female Empowerment Movement) on the pillars of gender equality.
While growing up as a strong-willed young lady; all credits to her incredible mother on her girl power talks, she became well aware of the various challenges women face. Thus, she was inspired to make a change from a different angle. Her path started with self-love and influencing others to do the same. This path was fueled by the ultimate purpose to show girls that they are stronger together, better together and that we can conquer anything together.
Thus far her life has always been a roller coaster ride and often at the most inconvenient times. Though faced with challenges, she holds close to her heart the woman who has always been by her side, from being the top graduating high school student, collecting her diploma for college, be awarded most outstanding young leader in the St. Vincent, walking scared to death to face her first job at the age of 16. Her mother Lizel Raghu was there throughout, she played a pivotal role in molding her into the young woman she is today. This stimulated her to harness a passion to rise above all and be kind to others. It also motivated her to find a way to impact women and girls to do the same in the way her mom did for her. She knew if women could share that bond and support, and if girls could be exposed to such a supportive community then, so much could be better. Together we can solve anything. To Lisa, this is what female empowerment is about.
Grateful for all the opportunities gained in her life, she looks for any opportunity to do the same for others. In her journey to continue to help others, she thrives to continue to develop herself as well. Hence, when a dear friend of hers encouraged her to join the Kectil program, she did her research and sent in her application. After many months into the program, she has not only met some inspirational young people across the world but she has been learning how they are working in their communities and how together they can inspire and lead positive change across the globe. As a futuristic thinker, she can't help but feel sad when she thinks about her time in the program coming to an end but she is learning to live in the moment by giving her best to every engagement while she is in the program.
To help Colleagues submit better assignments in the future, Lisa also shared some tips that she collected from wrting Kectil submission:
"Submitting an assignment with all the requirements; by reading all the materials and watching all the videos and doing your own research and within the deadline is necessary. However, if you are simply doing it to check a box or 'pass' or do the bare minimum to at least graduate from the program, then I ask you, as I ask myself every time I find myself slipping down that path. What is the point?
You see, this life and the time we have is all so very precious so I believe doing things that bring joy to our souls and sustains this world for generations to come is what will bring success not only in submitting a great assignment but learning and personal development. All of this may sound silly to some or plain unnecessary in this materialistic world.
Nonetheless, if I trek a path that my heart isn't convinced of, I discovered that any challenge or opportunity along the way is neither recognized nor realized because I simply don't make the effort. And without realizing it, sometimes we are creating stress for ourselves. For instance, I recall scolding myself because I did not meet a deadline or because I only did the bare minimum and I know I didn't give my best effort. Therefore, in short, my first and most important tip would be to love and/or fall in love with what you're doing.
After that, I would carefully read the assignment background and requirement(s), I then sit in a quiet room and think about what this topic means to me and how I truly feel about it. I then start the reading and research I mentioned earlier and I make it a 'date night' with my assignment. I listen to music and I learn all about my date (my assignment). Yes! When I say fall in love with your assignments, I really meant it. I hope this has been helpful in some way, I know everyone has their own method and process. After many trials, since my high school days of submitting assignments, I am happy to say this method leaves my mind both happier and more knowledgeable. If I hadn't joined Kectil I'm not sure when or if I would have ever learned this. Thank you Kectil and best wishes to my fellow colleagues on the upcoming assignments." 
MPUMELELO NCUBE – WNNER OF KECTIL ASSIGNMENT 3 MOST CREATIVE SUBMISSION
It is our pleasure to announce the official winner of Kectil Asignment 3 Most Creative
Submission – Colleague Mpumelelo Ncube from Zimbabwe. He has brought amazing
perspectives to the submission and illustrate them in a creativeway. Mpumelelo truly
deserve this award.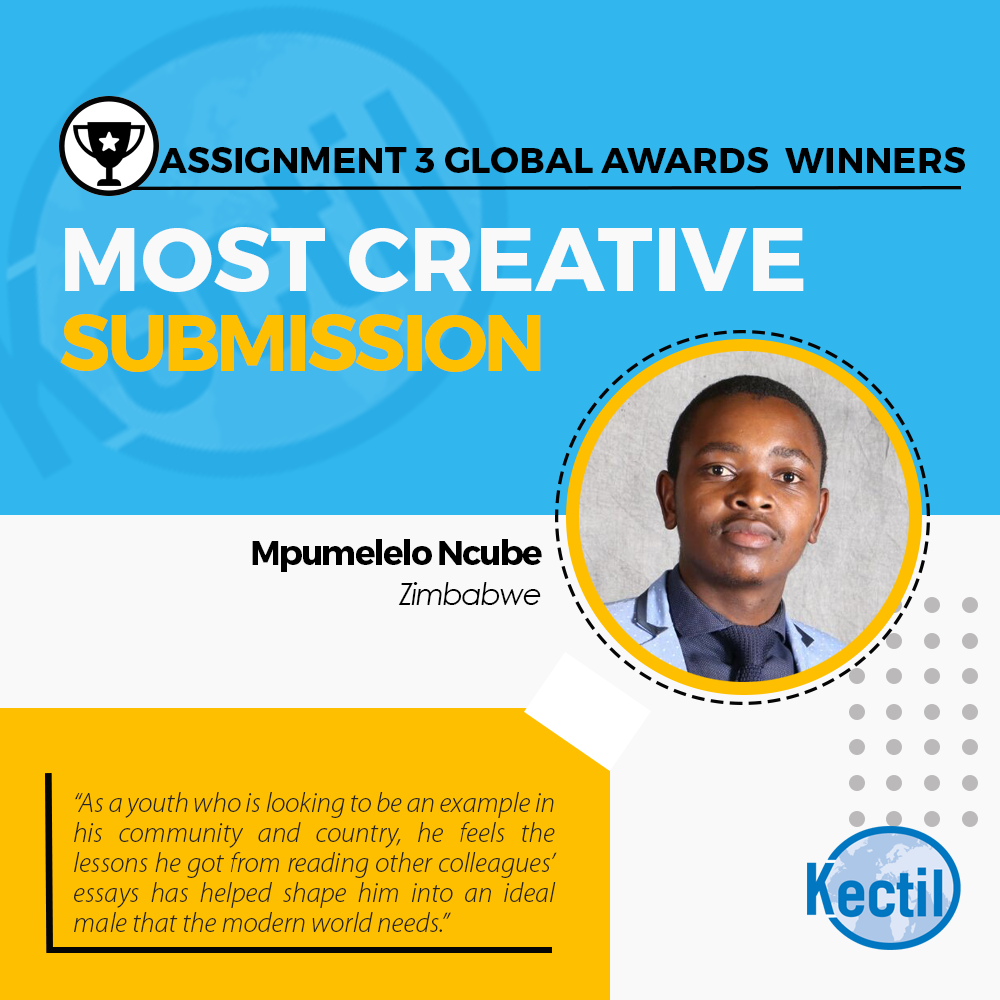 Mpumelelo has five years of postgraduate experience in the energy sector, having graduated
in 2016 with a bachelor of Engineering (honors) degree in Mechatronics from the Chinhoyi
University of Technology in his native country Zimbabwe. In 2014, he founded a
technological company which has since ventured into youth empowerment and capacity
building, with its recently launched "A thousand miles youth empowerment drive", a
movement which seeks to empower young people to be economically sufficient by funding
projects and incubating them into profitable business ventures. While working on this
initiative, he garnered a plethora of skills ranging from project management to monitoring
and evaluation, skills that helped propel his initiative to reach youths in all the ten provinces
of Zimbabwe.
Prior to this, Mpumelelo had worked with YES Network Organization, a youthful non-profit
organization that sought to bring energy to marginalized regions of the country by training
young people to make portable biogas digesters for installation in remote areas. Furthermore,
pursuant to his passion for youth empowerment, he worked with primary and high school
students teaching them how to code in Arduino and design robots to perform everyday
mundane tasks.
In recognition of his tireless work in youth empowerment in the technological sphere,
SASYDA invited Mpumelelo to be a keynote speaker at their annual conference in Gaborone,
Botswana in the month of December 2018, which was held under the theme "Fourth
Industrial Revolution, the future of jobs for all". He was once again invited to be part of the
8 th All Africa Students Union summit held in Rabat, Morocco from the 19 th to the 24 th of
December 2019 under the theme "From promise to action: connecting the African Union
(AU) to its citizens through students and youth engagement". Joining the Kectil program
helped him immensely as it exposed him to topical issues that affect everyday lives of youth
and adults alike in his community and country at large. The topic about mental health in
particular is the one he resonated with largely because of the realisation that fellow youths in
his native country are suffering from a plethora of mental health issues that fail to be
addressed out of ignorance amongst other things. The key learning points he got from the
program are the roles of men in modern society. As a youth who is looking to be an example
in his community and country, he feels the lessons he got from reading other colleagues'
essays has helped shape him into an ideal male that the modern world needs.