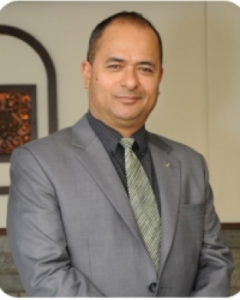 Pawan Tuladhar is the Founder and Owner of Dharma Adventures, which provides unique travel experiences in the Himalayas, Nepal, Bhutan and Tibet. Pawan is a Board Member of the Pacific Asia Travel Association, and it's Immediate Past Chairman.
Pawan is an Executive Committee Member of the Nepal USA Chamber of Commerce and Industry. He is the Chairman of Rising Recruitment, a human resources company networking people in Nepal with work opportunities in Southeast Asia, the Gulf Countries and Europe.
Pawan is also deeply committed to supporting the communities in Nepal, and is centrally involved with a number of charitable efforts in the country.  Pawan created The Dharma Karma Society in 2015, which helps fund education for children from low-income families and has supported the Bal Bhojan programs which provides free meals, value education and creative skill training to the street children of Kathmandu. Dharma furnishes monthly donations to the Buddhist Child Home, an orphanage in Kathmandu that shelters about 45 children. Dharma also sponsors children from marginalized families who are infected or affected with HIV.
The Dharma Karma society has been actively involved in providing relief to the 2015 earthquake victims. Since the earthquake, Dharma has provided tents, tarpaulin sheets, corrugated tin sheets, medicines and water purifiers to the needy. Post-earthquake, Pawan and the Dharma team have visited some of the hardest hit areas in the mountains. Food supplies and temporary shelters have been provided to these sites.
Pawan is also a funding Trustee of The Nepal Trust that provides assistance to the Humla District, one of Nepal's highest and most inaccessible districts, located in the remote western regions bordering Tibet. It holds great history, culture and value to Buddhists and has incredible beauty, but is often cut off from access for months due to winter snows and spring flash flooding. Pawan through The Nepal Trust is involved in various community development work such as health, electricity, water supply and education.
Pawan is also an active member of the Rotary Club of Kantipur. In 2011, Dharma Adventures partnered with One Health Worldwide, USA, to provide neonatal care to the remote Himalayan region of Dolpo in Nepal.